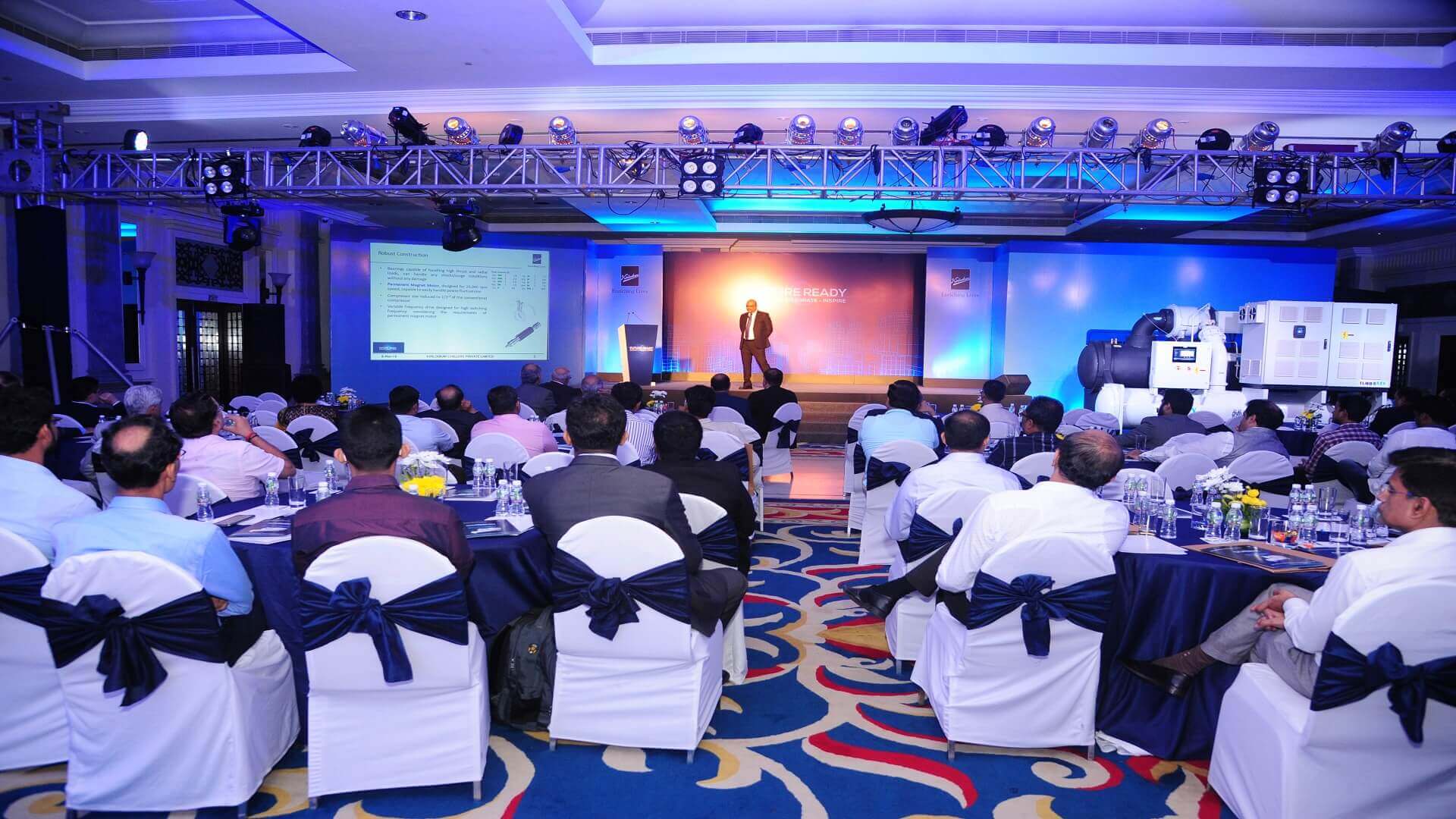 Kirloskar Group launches series of chillers with India's first Oil Free Centrifugal Compressor; takes a step towards sustainable development
Date : November 8, 2019
Kirloskar Chillers which is a part of the Kirloskar Group, is currently India's leading Heating, Ventilation, Air Conditioning and Refrigeration (HVAC&R) solutions provider. The company recently launched India's a new range of Water Cooled Chillers using India's first Oil Free Magnetic Bearing Centrifugal Compressorat an inaugural event held at Mumbai. With technical expertise to design and manufacture compressors using magnetic levitation technology, Kirloskar Chillers, have joined a select few manufacturers globally capable of offering this technology. This technology promises to dominate rotating equipment, in general and chillers in particular, over the next few decades.
The Company highlighted significant advantages of magnetic bearings for compressors used in chillers over conventional bearings. Chillers form a part of the central air conditioning systems, and have a huge demand in various market segments, both Commercial - (hotels, hospitals, malls, airports and IT facilities) and Industrial applications - (pharmaceuticals, automobiles, textile, chemical & FMCG).
At the event, Mr. Rahul Kirloskar, Vice Chairman of the Kirloskar Group, said, "Kirloskar Chillers is committed to the Green Movement in India, and is continuously striving to offer more energy-efficient and environment-friendly products to the market. With the latest addition of indigenously manufactured magnetic bearing centrifugal chillers with capacities between 400 and 1200 TR (ton of refrigeration), Kirloskar Chillers leads from the front in promoting the Modi government's 'Make in India' philosophy."
During the inaugural ceremony he also highlighted a few of Kirloskar Chillers Private Ltd. (KCPL) achievements over the last two decades. KCPL was the first in India to manufacture Hydro-Fluorocarbon (HFC) 134a centrifugal chillers. It was also the first manufacturer in India to offer chillers certified by Air-Conditioning, Heating, & Refrigeration Institute (AHRI). KCPL also setup the first and even today, the largest AHRI-certified test facility in India, and was the first to introduce screw chillers using low Global Warming Potential (GWP) Hydrofluoro-olefin (HFO) refrigerants ahead of the market trend. KCPL has consistently been setting new benchmarks in the chiller industry.
Mr. Avinash Manjul, Managing Director, Kirloskar Chillers who was also present at the event, said, "At KCPL we continue to focus on Research & Development, with a view to developing world class products that continue to delight our customers. It is a matter of pride that KCPL's products are well-accepted in several countries in Asia, Middle East and Africa."
We are extremely optimistic about the economic growth of our country and we foresee a demand for products and services in the HVAC&R market from 2020, based on growth in infrastructure and increase in consumer spending.
As a manufacturer, have incorporated emerging technologies such as Internet of Things (IoT) into our product and service offerings to maximise customer value. To augment our production capacity, we have invested in a new state-of-the-art manufacturing facility in Pune, which is scheduled for completion in 2020," he added.
About Kirloskar Chillers Pvt Ltd.:
Kirloskar Chillers Pvt. Ltd. is a part of the Kirloskar Group, a highly diversified engineering conglomerate having its operations across India and more than 70 countries across the globe.
Kirloskar Chillers was established in 1995 as a pioneer in the Indian chiller industry, offering a range of Centrifugal and Screw Chillers and responsible for introducing chillers with ozone-friendly refrigerants to the Indian market at a time when ozone-depleting CFC refrigerants were more commonly in use. Since then, Kirloskar Chillers has been at the forefront of chiller technology, regularly introducing new products and services over the years, and is today a leader in chiller products for comfort air-conditioning and process cooling applications.